What is EdTech? How it's useful for students and institutions
---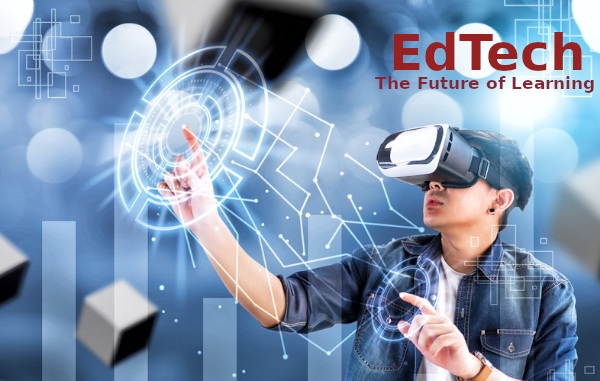 This article covers the EdTech definition and multiple technologies involved for making education smarter and
better
. Quick introduction of these technologies are provided below along with education industry related use cases.
1. What is EdTech?

EdTech is an abbreviation for Education Technologies. There are different modern technologies like Artificial Intelligence(AI), Machine Learning(ML), Augmented Reality(AR), Virtual Reality(VR), Data Science, Deep Learning, eLearning, Education Automation Software/School ERP/Institute ERP are useful for education.
Technology is ruling the world and education is no exception. It's unfolding a new chapter in the progressive education ecosystem. EdTech brings great transformation in learning, teaching and research.
The basic use case is, technologies can improve the student's learning experience by analyzing the grasping ability and interest. The algorithm can identify the patterns and provide the personalized learning experience and recommendations.
2. Virtual Reality in Education:
VR is about creating a simulated experience of the real environment through technology. And taking the user inside the experience.
Let's imagine you are a science teacher and explaining about the International Space Station(ISS) to your student. How great the student's experience is when a Virtual Reality(VR) based device can take your student to the ISS and provide a realistic like experience.
Check this video link for better understanding
3. Augmented Reality in Education:
AR visualizes the information as interactive real-world objects in 3D graphics, which is accurate and more like physical. In other words we can simulate the artificial object into a real environment. It also combines audio and sensors to make it more realistic and interactive. Just like humans having the vision, audibility and senses to interact with real world objects.
This will be the out of the box training experience for any student and instructors too. Also save training time, make education interesting, interactive and more realistic.
You can refer to this video for more detail.
4. Machine Learning in Education:
Machine Learning is about collecting the data continuously, verifying through algorithms and making it available for decision making. Also improving its accuracy as the data is growing.
Machine Learning Algorithms can identify your learning pattern and reorganize the course according to your learning behaviour and interest. It is also useful for instructors to identify the struggling students early and take the appropriate action for their success.
5. Data Science in Education:
Data Science is about analyzing the huge volume of data and identifying the meaningful insights and knowledge through advanced statistics, algorithms and processes.
In the modern technology world, we are using various applications like social media, internet banking, business applications, entertainment apps etc. Terabytes of data is being produced every second and it's rapidly growing. Data Expert says DATA HAS BECOME GOLD today. Here the new opportunity evolves for data engineers and scientists to focus on extracting the knowledge and insights for data-driven decision making. It's a broad subject and related to Data Mining, Machine Learning and Artificial Intelligence.
For education the data gathered from various sources like operational data from ERP, Online examination data, LMS/eLearning application data etc. The same data is now ready for analysis through Data Science. The insights generated from Data Science will be useful in many cases like:
Measuring the student performance
Measuring instructor/faculty performance
Develop courses based on Adaptive Learning
Innovative the syllabus and curriculum
Increasing business efficiency and optimizing the process
6. Artificial Intelligence in Education:
AI is a broad subject in Computer Science and has multiple branches. AI represents the intelligence of a machine, capable of doing tasks which are generally possible by humans. We can call it Smart Machines. As human intelligence evolves continuously, AI also evolves its accuracy, efficiency and intelligence for better outcomes. Machine Learning, Deep Learning, Data Science etc are used together in Artificial Intelligence.
Chatbots are AI driven solutions which can answer various user queries automatically. For education, student queries can be automatically answered by chatbots. This can save the instructor time. Chatbots can also be trained to respond to queries related to accounts, course enquiries etc.
Chatbots are also useful for automated lead capturing from the website/apps which can work like a real sales agent. It saves your manpower cost and the best part is it's available 24x7.
Here are some other use cases of AI for Education :
Automatic grading
Adaptive learning based on student competency level
Suggesting area of improvements in a course
Automated feedback to improve the learning experience
Automated Alert System to faculty/parent/student
Automated answering through Chatbots
Automated Lead Capturing from Website/Apps
7. Online Exam/Test Software/Apps:
In today's education world almost every institution has an online-exam platform. Online exams and assessment software can suggest your strengths and weaknesses. So that student can understand the areas where improvement is needed and they can focus on those topics. These software/apps are also useful for revision and increasing the speed.
From the trainer perspective it's easier to create a question bank once. Then create the test/exam for students many times from the same question bank. It's time saving. Also there can be multiple types of test can be created for better assessment. For example random selection of questions from question bank, section wise test, timer settings, marking criteria and many more options available. In our EISdigital software application we identified Online Test Module as USP.
8. Education Automation Software / ERP:
When it comes to institutions like Colleges, Universities and Coachings they can use software(ERP) to automate their day to day activities. After sometime when sufficient data is available in ERP it can be useful for analysis to identify various business insights and future predictions. Key Performance Indicators(KPI) and Dashboards can be designed for data-driven decision making. Overall technology saves lots of administration time and enables smooth operations for institutions.
9. E-Learning and LMS:
eLearning (electronic learning) means learning through digital contents like Video, PDF, PPT, Doc, Images etc. LMS software app organizes these contents as a course. Then it's subscribed by students. eLearning/LMS comes with various analysis tools. For more detail on eLearning and LMS please visit our article
eLearning has already proved its success for self-learning. The major section in YouTube is educational videos for many subjects, it's nothing but a eLearning. During the COVID-19 various institutions set up eLearning Platforms and Learning Management System (LMS) tools and gained huge popularity and success. Also they could cross the borders and reach various aspirants. eLearning is also useful for staff training and product training manuals.
10. Our EdTech Solutions:
You can check out our EdTech Solutions (software products for Education Field)
Above all three products are stable software solutions since 2009 and continuously evolving through the innovation of modern technologies and customer feedback.
Conclusion:
EdTech is a great revolution for modern learning which has transformed the way we learn. During the COVID-19 pandemic period, EdTech industry growth is multiplied , also it could attract the huge investment. The EdTech innovation will continue for better education experience in the coming years.
The institutions having set up for these technologies are already getting excellent business during the Covid-Lockdown period. Also their courses could reach multiple regions and cross the borders. The experience from local to global increased their revenue and brand presence. In fact, tech-enabled learning is delivering great success for aspirants. At the same time it's great for the businesses.
Approximately 30%-40% institutions were shut down during the COVID-19 and couldn't survive due to lack of technology in their business. If you are still operating manually without technology then you are at big risk. Find a technology partner as earliest and save your business/institution. You can talk to our expert. Just
contact us
Thanks for reading!