eLearning / LMS / Video Lecture Making – Technologies and Software
---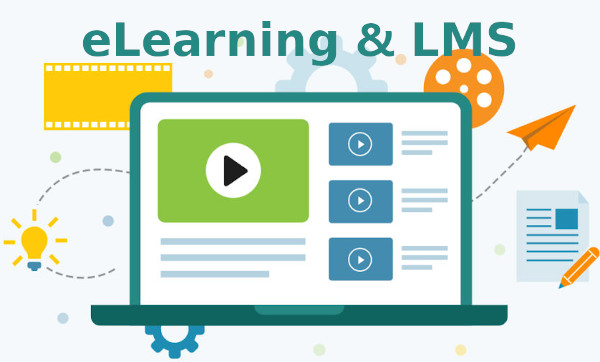 This article answers to these frequent queries related to eLearning and Videos Lecture:

Q. What is eLearning ?
Q. What is Learning Management System(LMS) and How it's related to e-Learning ?
Q. What are the benefits of eLearning and LMS ?
Q. How to make effective video lecture for your online courses?
Q. What are the related software tools and technologies for video making and hosting ?
Q. How to increase the revenue of educational institution(coaching/college/university) ?
1. What is eLearning?
E-Learning = Electronic Learning
Learning through the electronic or digital contents/resources like Videos, PDF, PPT, Word Docs, Blogs, Websites and Online-classroom are called eLearning. Thanks to the internet, smartphones and computers which made this eLearning successful.
During the Covid-19 eLearning industry has grown rapidly. By 2026 it's expected to cross USD 375 billion according to research by Global Market Insights. According to the World Economic Forum approx 1.2 billion students were out of classroom/schools/institutes during this penademic. The Learning Management System(LMS) played a crucial role in organizing eLearning facilities, students, trainers and institutions all together in a single platform.
e-Learning is useful for Coaching Institutes, Colleges, Universities, Corporate Training, Product Training and Manuals, Employee Training etc.

2. What is Learning Management System (LMS)?
Learning Management System is a software used to facilitate e-learning, content management, student performance analysis and detailed reporting. It has different uses for different entities like:
Student learn from digital courses organized in LMS
Faculty/Trainer creates digital courses and manage in LMS
Institute/School/Coaching/Organization design the digital-courses and sale online. Also can analyze the overall business insights through reporting system
There are different features in LMS, some of them are as below:
Learn through videos/digital contents
Performance Evaluation through Online Test and Assignments
Share learning resources upload/link
Store / Online Shop for buying courses
Integrated payment system
Course progress tracking
Referral program
Messaging system (Email/SMS/Mobile Notification/Live-Chat)
Analyze the content access like watch minutes,view count, download count etc
Feedback system
3. Benefits of eLearning
e-Learning services are the essential facilities the institute/school offer. At the same time it's necessary for the corporate sector because there is a huge investment in employee training. There are numerous benefits for every entity involved.
LMS Benefits to Students:
Audio-Visual presentation and infographics means better learning. Also enhances the learning experience of students because this generation is grown up with technology and smartphones from childhood.
Time convenience, learn anytime, no boundation of fixed classroom schedule.
Options to repeat the lecture in-case of doubts
Students can adjust the learning speed of courses based on their grasping abilities. It's a best match of course-delivery speed and student's learning speed, rather than following the classroom-group speed.
Students can choose the topics based on their interest instead of following the common sequence.
25%-60% faster course completion compare to classroom training
Save traveling time and cost spent on going to the training venue. Also safe during the Covid-19 period.
Converting waste time spend on mobile-phones to value time utilization
Better utilization of small-spare minutes. Due to short video lectures, students can utilize that small piece of time in learning.
LMS Benefits to Institution/Coaching/Company:
Institute can reach a larger number of students beyond the specific area. In fact there is a scope to go global and teach world wide students.
Multiply the revenue and profitability by approximately by 2X or higher
Easy to scale the business. Technology based services are easily scalable as compared to traditional business.
Better business insights through analytics and reporting systems, helps in fast and better decision making.
More number of courses can be offered
LMS improves the training service quality, which converts in better student-results
Internal team-training can be organized through LMS and some repetitive-learning can be simplified with assessment. This will save the training-cost.
Various companies conduct product-training through LMS and save the repetitive efforts.
LMS Benefits to Faculty:
Easier to design and manage multiple courses
Integrated and automated performance assessment of students
Time saving due no repeat session, lesser doubt session, no manual exams, no question paper checking.
No more rewind and play in each classroom. It's better to focus on detailed subject study and then create the best video lecture.
Consistent training quality delivery
Easier for a trainer to teach more subjects, as they get time to learn new subjects
Better way to interact with student and management team over the integrated messaging platform
Various insightful reports help in analyzing the lecture quality, student engagement and feedback.
4. Video Lecture Content Quality
A trainer's identity is his/her mastery in subject. The same knowledge must be reflected in video lectures. The topic covered in lecture must be informative, accurate and point-to-point with proper graphical-presentation and infographics. Also some real-working animation can be used to better explain the topic. Avoid too much theoretical talk, out of topic matters, yelling to students and too much repetitive explanation. Kindly do not express the frustration in a video lecture. Sometimes you can use short motivational stories to engage your audience, depending on your student.
If you are a programming-language(Java/Python/C/CPP/PHP/Ruby/C#/Android/Swift/Dart/ etc) training organization then you can use ready-slides for explaining the concept, some image drawing tool can also be used. Its great and effective if trainer can write the code side by side, run and debug. Don't worry about the errors occurring during coding, just fix them and explain the reason. Avoid using ready-made programs. Sometime you can copy-paste some reusable time consuming code from your previous code-base.
Using presentation slides with bigger font size and limited points are more effective, compared to showing the text-book-pages and highlighting/underlining over them.
The final rule is best subject knowledge with presentation technique delivers a great video lecture.
5. Content Sequence in Video Lecture and Time Management
Teaching is effective when the points are delivered in proper sequence. That's why various trainer keeps a small paper when they enters to classroom. That paper has a sequence of topics to be covered during the lecture. Exactly similar approach should be used during recording video lectures. It's good practice to keep the video smaller, approx 8-15 minutes. And you can split the large topics into multiple videos. Also remember that you do not cover multiple topics in a single video, so that it's easier to organize topic wise video in LMS.
Here are some set of sequence-point should be followed in video lecture :
Small branding clip, it can be a logo or your company/institute or small animation with contact number/social media handle/website/blog link etc. (2 seconds)
Greet your students (2 seconds)
Tell about the topic being covered in this video lecture (5 seconds)
If today's topic depends on some previous video lecture, then request to watch before this video. (5 seconds)
If some quick revision needed from previous dependent topic then quickly cover (2 minutes)
Deliver the main course ( 7 minutes max / for longer topic, split into multiple videos)
Cover Frequently Asked Questions (FAQ) related to the topic (2 minutes)
Quickly summarize the topic / conclude (1 minute)
Ask for feedback/question (3 seconds)
Thank you message with branding screen/animation (5 seconds)
6. Video Length, Resolution, File Size and Format
While working with videos the video-developer should follow a few basic guidelines so that the best user experience can be delivered to the viewer across various devices(Mobile/Desktop/Tablet/Web) and platforms. Also the data-consumption must be optimum. Here are the basic rules :
Video Length: The recommended length of video lecture should be between 8-15 minutes each as per YouTube and Udemy platforms. If the topic is not covered in a single video then split the lecture into multiple videos. Because the standard behaviour of a student/viewer is to watch small videos. Also the loading time of video will be quick and almost no waiting. Whereas for 1-2 hours video it takes around 5-10 seconds to load in the player.
Resolution/Quality: Resolution refers to the width and height of video. Everyone wants to keep the best quality video (higher resolutions like 720p, 1080p etc). The higher resolution means more storage, more internet-data usage and high speed internet connectivity needed to watch the videos. Therefore, it's strongly recommended to identify your user and their internet availability then decide the video-resolutions.
For the best accessibility experience to the majority of the users/students it's better to keep multiple copies of a video like high(720p/1080p), medium(360p/480p) and low(240p) resolutions.
Various video hosting platforms like YouTube have inbuilt features to manage multiple resolutions internally. Whereas some platforms like EISdigital ask trainers to choose the required resolutions while uploading a video. And the system will generate multiple videos accordingly.
EISdigital video hosting platform recommends to manage any 2 resolutions either "High 720p- Medium 480p" or "High 480p and Medium 360p" for a video lecture.
The final note is – remember that more than 70% user traffic comes from mobile devices. Medium or lower resolution videos deliver the best user-experience due to limitation of internet speed, mobile-data and mobile-hardware capabilities.
File Size: The video file size depends on various properties like video quality, resolution, format, video-container etc. For example the size of 15-minutes video of resolution 1080p (1920x1080) is approx 50 MB. The same video in 240p(426x240) resolution is 15 MB.
Format: There are various popular video formats MP4, WEBM, MOV, MKV, F4V, AVI, FLV etc
For LMS applications we recommend MP4 or WEBM format. Because both are well supported in most of the devices and platforms. EISdigital.com video hosting platform supports MP4 format. However users can upload any format video file, the system internally converts into MP4 file.
7. Audio and Video Quality
The best quality is what user likes. Without going into too much technical details, let's focus on what's needed for eLearning and LMS systems. The video quality must be visible properly, the presentation of subject matter must be excellent, audio should be clear audible, medium pitch and noise free. Check both Left and Right ear plugs must be audible. Also tune the volume correctly.
8. Video Recording and Editing Software Tools
There are various software/mobile apps available for video recording and video editing. Some of them are free and some are premium/paid tools. Depending on the requirement you can choose the best fit for you. Here are few list of tools you can choose from -
Video Recording Software:
OBS Studio (FREE)
CamStudio (FREE)
QuickTime (FREE)
TinyTake (FREE)
iSpring Suite (PAID)
ScreenFlow (Recording and Editing)
Video Editing Software:
CyberLink PowerDirector (PAID)
Adobe Premiere Pro (PAID)
VSDC (FREE)
Filmora(PREE/PAID)
OpenShot (FREE)
Lightworks
9. Video Hosting Platforms / Where to Upload Videos?
Video hosting means uploading your videos on the server so that they can be available to watch through different ways. Here we are focused on uploading video-courses. The simple use-case is uploading video on the server then accessing/watch from LMS applications. The standard features offered by most of the video hosting platforms are
Watch video through link
Public and Private access
Download restrictions
Multiple video quality/resolutions
Video watch-speed controls(1.25x, 1.5x, 2x etc)
Support for multiple video formats like mp4, flv, webm, f4v etc
Video conversion into required resolutions
Playing video without lagging and too much buffering
Offline download features
Scalable storage
Some of the popular video hosting platforms are:
YouTube
Vimeo
EISdigital.com (our own secure, scalable and high performance video hosting platform for LMS/e-Learning)
Dailymotion
Facebook
10. Video Title, Thumbnail, Description and Tags
During listing videos in any video hosting platform it's very important to describe and do the proper tagging of videos. Why is title, description and tagging important? The simple reasons are
This information is used by search engines and software tools to make your video searchable by viewers.
The viewer reads the description before watching
Unique title and Beautiful thumbnail increases the view count
That's why title, description and tags are useful elements for eLearning and LMS platforms.
Conclusion
e-Learning is the most demanding and emerging technology for the education sector. It's growing faster and has potential to multiply business revenue for educational institutions. At the same time it's useful for the corporate sector for their training activities to encourage self-learning for their employees. This saves time and money both.
The great subject-knowledge is everything in learning. Some tools, trics, presentations and animation are useful to make e-learning fun and engaging.
So, if you are an education organization(coaching/college/university), recruitment agency or corporate; just introduce eLearning and experience its numerous benefits and opportunities.
Thanks for reading!