How to prepare for CA/CS/CMA/ICWA Exam ?
---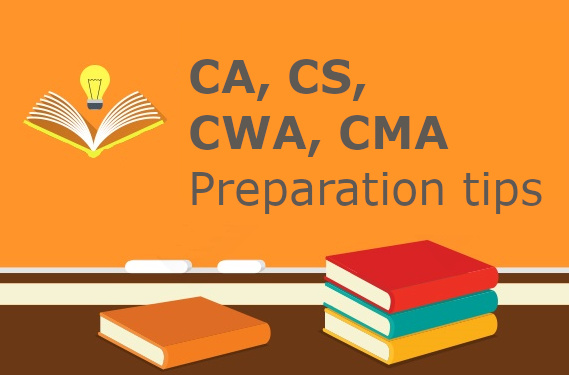 Before moving on to the necessary tips and methods, let us first provide some background information on the CA and CS exams. The Institute of Company Administrators of India (ICAI) was founded in 1949 and now has over 2.10 lakh members. Every year, about a lakh students enroll in the Chartered Accountancy program. ICSI was founded in 1980 and now has over 62,000 members and 3.5 lakh students on its rolls.
As evidenced by the data above, these national-level exams have a high level of competition and a low overall passing rate. Due to their nature, these tests assess students' knowledge, abilities, attitude, and patience, among other things. These exams are so competitive that they instill in students a sense of war. Challenges and strategic planning are part of every achiever's path. When studying for an exam, there are a variety of guidelines and methods to consider. These are broad guidelines that apply to all levels of CA and CS.

What exactly is CMA?
A certified management accountant (CMA) can work in financial accounting and strategic management in organizations. The CMA course may be preferred by professionals because it covers topics that the certified public accountant (CPA) credential does not.
CPAs specialize in job-related tasks like auditing and tax preparation. CMAs, on the other hand, focus on executive and management functions. CMAs also examine budgets and assist businesses in making strategic business decisions.
People who pass the CMA exam are certified by the Institute of Management Accountants (IMA). Before applying for leadership positions such as chief financial officers, accountants must obtain a CPA license. Non-certified accountants frequently earn less than certified public accountants.
What is ICWA?
The ICWA offers a three-year program with foundation, intermediate, and final stages. Students who want to work as cost management accountants should take this course. The institute helps students obtain professional certifications and provides the education they need to succeed as cost management accountants anywhere on the planet.
The ICWA course gives applicants at all three levels in-depth information, allowing them to run a business with limited resources. A cost management accountant is in charge of gathering and analyzing financial data from the company's various divisions. Online or by correspondence with a recognized university, the course can be completed.
Candidates who complete this course will have access to a variety of financial options as well as the necessary education and credentials in the field. This course is for those who want to be in charge of the accounting for the company's various departments.
The primary difference between CA and CS
A Chartered Accountant (CA) is in charge of the company's budgets and finances, while a Corporation Secretary (CS) is in charge of providing advice on a variety of topics. One is an expert in accounting and finance, while the other is an expert in corporate law and governance. For anyone trying to figure out which program is best for them, we'll clear up the confusion between CA and CS in the section below!
Despite the obvious differences in job titles, most people have trouble distinguishing between CA and CS. Because it is one of the most sought-after professional courses after graduation or 12th grade, it is critical to understand the distinctions. As a result, we'll give you a thorough comparison of CA and CS, as well as the key differences between the two fields, so you can make an educated decision.
CA- Institute of Chartered Accountants of India [ICAI] is the main conducting body
CS- Institute of Chartered Accountants of India (ICAI)
CA- Candidates with a strong mathematical and logical reasoning background
CS- Candidates with an inclination towards theory and legal
Stages
CA- Foundation, Intermediate, and Final Course.
Note: One can also follow the direct entry route
CS- Foundation, Executive, and Professional Programme
CS- 2-3 years
CA- Chartered Accountancy Common Proficiency Test
CS- Company Secretary Executive Entrance Test
CA- Candidates who passed their 12th examinations with a minimum of 50% aggregate can take the CA Foundation test.
CA Foundation candidates with an aggregate of 55 percent in a Commerce stream graduate or post-graduation degree or its equivalent from any university/open university recognized by the government are excluded.
CS- (10+2 pass or equivalent from any stream) for the Foundation Programme
Executive Education (Graduation from any field apart from fine arts)
Professional Development Program (Executive Programme)
Job Profiles
CA-
Auditor
Financial Analyst
Research Analyst
Investment Advisor
Accountant
Credit Analyst
Forensic Audit
CS-
Associate Company Secretary
Company Registrar
Corporate Planner
Chief Administrative Officer
Legal Advisor
Corporate Policymaker
Principal Secretary
CA/CS Exams
Preparation Tips
Start Early
Prepare for the CPT test as thoroughly as possible, as the CPT scores serve as IPCC benchmarks. Students who prepare for the CPT exam do well on it and gain enthusiasm and confidence for the IPCC exam. This almost always leads to a successful IPCC pass.
As soon as the new academic year begins, students should begin their preparation. The vast majority of students are prone to abdicating their school responsibilities.
Students believe they have plenty of time and begin studying as soon as their exams are approaching. As a result, right now, this is the best way to prepare.
Students must meticulously plan and execute their preparation. Sticking to your study and preparation schedule should become a habit for you.
Make a schedule for the examination
To begin, determine the length of your course and the number of days you'll need to attend sessions. Your productivity is entirely dependent on how you manage your study time with online classes and video lectures. Physical classes, on the other hand, require you to rely on the classes to complete the syllabus on time, which does not always occur due to a variety of factors. Because online classes have fewer distractions, it's all about putting your productivity to the test. Based on your schedule and concentration power, you can choose how many hours to study per day.
Examine previous question papers and practice tests
Examining your knowledge with past question papers and practice tests is an important part of studying. On the internet, you can find a variety of mock tests. The questions can be used to comprehend and evaluate the weighting, types of questions asked, complexity, and syllabus pattern. Learning by example is beneficial to your brain. In theory, the basic weighting can be deduced from the syllabus, but putting it into practice is a different story! It helps you prepare for exams by preparing your brain for future study, and when you solve it, you reduce your blunders. This is a critical method for difficult subjects like CA and CS.
Don't play with industry-specific terms
All jargon, terminology, and definitions should be written in plain English. You can use different legal languages in your answer if you want, but the context, texture, interpretation, and meaning should not be changed.
Choose the right institute
Students are expected to put forth their best effort and work diligently. However, there is a problem when it comes to selecting a CA coaching institute. The majority of these institutions have excellent academic records, making it difficult for students to choose the best one.
If someone is looking for a good institute, they should always inquire about the results of the previous year's CA exam. Only apply to institutes with a proven track record of success for CA candidates. When it comes to passing the CA exam, having the right tutoring and support can make all the difference.
Do a Comprehensive Review of Theory Papers
A thorough investigation is required, whether the subject is academic or practical.

If you want to get a good grade, you may need to spend some time revising after you've finished all of the topics.
Students generally believe that theoretical courses are simple to understand and do not place a high value on them. You may need to obtain all previous year's theory papers to make any subject strong.
Consider the changes in Direct and Indirect Taxes
Keep up to date on any additional changes made by the government in direct and indirect taxes while studying for the Chartered Accountant/ Company Secretary/ course. Reading monthly magazines, watching news channels, and so on are the best ways to stay current.
Get a Good Night's Sleep
Everyone is nervous while studying for exams, and the Chartered Accountant/Company Secretary appears to be the most difficult of the bunch. Always remember to get enough sleep, especially at night. Short naps aren't always bad; in fact, they can help you re-energize.
Do yoga and meditation
When you are preparing for exams like CA and CS you need to keep your mental balance in check. You need to be calm and composed at all times as your mind will already be stressed with studies and trying to remember all the information that you feed it.
Practicing yoga and meditation like mindfulness and alternate breathing and even deep breathing in the morning and right before you go to sleep would help you a lot in your preparations.
Strategies for studying CA/CS

It's a good idea to do some research on the best study methods before diving in. Some of them will be familiar to you, while others will be unfamiliar. But have faith in us. If you use these strategies, you will be able to study more effectively.
Your Study Should Be Spread Out
The people who do not cram are the ones who learn the most. Instead of going over the same material for eight hours straight, it's better to break it up into smaller chunks of an hour or two. In fact, taking a day or two off between study sessions on the same subject may be beneficial! It is critical to study on a consistent basis over time.
Review
Before moving on to the next study interval, go over the ideas from the previous one. Review the knowledge from the previous session, then key subjects from a week ago, and so on until you reach the start of the course.
There's no need to go into great detail because this is a quick change. It's also not about constantly repeating the same information.
Continue on to new material after this quick review. This method of studying is more efficient, and it avoids having to re-learn the same material in the future.
Don't be afraid to ask questions
Make a list of the concepts you need to understand from your study materials and syllabus. Making a list of the study headings is a good idea.
Then, as you work your way down the list, consider why and how these ideas work. Make a separate sheet of paper for the questions.
Use the study resources as a guide to answering the questions. Make links between concepts and explain how they interact. Consider how these concepts apply to your own life experiences.
You'll need to use your study notes to answer your questions when learning the material for the first time. Write out your own responses to your questions instead of looking at your notes later while revising.
Take Notes in a Different Way
Assume that your study materials are free of images. It's jam-packed with words and more words. We all know what to do when faced with a mountain of words. People encourage you to write in the margins and underline important points. That is not something we are against. It functions properly, and everything is in order. However, you might want to spice it up a little. Combine gorgeous visuals with your notes! Instead of highlighting, you may create visuals and take brief notes to describe the subject.
Retrieve information
This strategy is now only effective if you've gained new knowledge. No, not right now! It should also not be used immediately after you've learned the material. It must be completed following the learning process. To put it another way, it's great for rewriting. Without looking at your study notes, scribble down whatever you remember about the topic after you've learned something. You could even use a mental map to keep everything in order.
Don't overlearn
Overlearning is a study technique that entails repeatedly reviewing a piece of information until it is remembered. Consider it for a moment. Why? Because it will make it easier for you to recall this information almost immediately. This is exactly what you'll need for an exam!
But be careful not to overextend yourself! Remember how you stressed the importance of each topic? Remember how some exam topics were weighted more heavily than others?
Find out everything there is to know about these crucial topics. Also, don't waste your time studying topics that aren't likely to come up in your exams!
Exam Day Instructions for CA/CS
The following instructions must be followed on the day of the exam:
Bring no cell phones, calculators, or other electronic devices to the exam.
Do not panic or haste when answering questions. Answer the questions while thinking calmly.
If the paper is difficult, don't lose hope or give up. Start with the easy questions and work your way up to the more difficult ones.
Leave no questions unanswered and strive to answer all of them.
Pay attention to the invigilator's directions from time to time.
If you have difficulty in the exam room, immediately notify the invigilator.
Unless there is an emergency, avoid using the restroom during the test.
FAQs for CS/CS Exam Preparation
Q1. When may a 12th-grade student take the CA foundation exam for the first time?
Answer- Any student taking the 12th grade can register with the Board of Studies. After completing four months of study and passing the Class XII exams, a student can sit for the Foundation exam after clearing the 10+2 exam.
Q2. How many points do RTPs contribute to the CA foundation exam?
Answer- An examination of past exam papers reveals that around half of the questions in the ICAI exams come from official material and sources, such as modules, practice manuals, mock tests, current RTP, and previous year RTP. Final test questions are sometimes taken directly from the RTPs, and many times the questions on the exam are quite similar to the questions in the RTPs.
Q3. How do you prepare for the CA intermediate exams?
Answer- Students will benefit from the following schedule:
Divide your study plan into three sections: learning, review, and revision.
Set daily goals through self-study.
Before beginning, today's study, go over the previous ones.
Appropriate use of internet-based information and data
Weekends should be used sparingly, with more study time.
Q4. Can I take the intermediate exam in another country?
Answer- On the ICAI registration form, Foreign Accounting Body Members will be requested to indicate their preferred exam session date and venue. Following successful registration, the ICAI will provide you with additional information. Candidates must complete an examination application in the approved manner and submit all required materials.
Q5. Is it possible for an MBA finance graduate to take the CA intermediate exam right away?
Answer- Yes. The ICAI permits Commerce Graduates/Post-Graduates (with at least 55 percent marks) or Other Graduates/Post-Graduates to enroll straight in its Intermediate Course (with a minimum of 60 percent marks).
Q6. Is it possible to apply for registration online as well?
Answer- Yes. Actually, only online registration is available for the CS Course. On the institute's website, www.icsi.edu, you can register via the institute's online services.
Q7. What stages are covered in the CS Course?
Answer- The CS Course is divided into three stages:
1. Foundation Programme
2. Executive Programme
3. Professional Programme
Q8. Do I need to fill out an online application with my email address and phone number?
Answer- Yes, because you'll need to know your user ID and password in order to fill out the online examination application form. It will also be beneficial for receiving exam-related e-mail updates/alerts from the ICAI Exam Department. Make sure you submit a valid and active e-mail address (without any typos), as all correspondence from ICAI, including the user ID and password, will be sent to that address.
Q9. Is it possible to modify my profile information after I've started applying for an exam?
Answer- No. Before you apply for the exam, make sure you've made all of the necessary adjustments to your profile. Your profile information will be updated on your application form once you click "Apply Now." As a result, any changes to your profile made after you started applying for an exam will not appear in the application.
Q10. How can I sign up for the CA exams?
Answer- At all three levels of the course – Foundation, Intermediate, and Final – students must register online at the official website in order to sit for CA exams. Furthermore, various documents are required for each stage of the exam registration process.
Q11. What documents do I need to register with CA Foundation?
Answer-
The board of school education issues an admits card with an attestation/mark sheet.
Photograph of the candidate at passport size.
NRI students must provide proof of nationality.
Attested copy of proof of special category certificate for ST/SC/OBC or differently-abled people.
10th-grade report card
Q12. How frequently are CA exams conducted?
Answer- The governing authority for the CA exams is the Institute of Chartered Accountants of India (ICAI). To become a Chartered Accountant, a candidate must pass all three levels of the course: Foundation, Intermediate, and Final. CA exams (for all three levels) are held twice a year in May and November (i.e., twice a year).
Q13. What is the deadline for CA Course registration?
Answer- Every year in May and November, all three levels of CA exams (Foundation, Intermediate, and Final) are held (i.e., twice a year). As a result, students/candidates interested in taking the exam should register by January and July for the May and November exams.
Q14. I am a Class XI student who recently completed Class X. Is it possible for me to enroll in the Foundation Course?
Answer- Yes, Students may provisionally register in the ICAI Foundation Course after passing the Class 10th examination administered by an examining body created by law in India or an examination recognized by the Central Government or the State Government as equal thereto.
Q15. Is there a change in the Foundation Course's syllabus and fee?
Answer- Candidates should be aware that the Foundation Course's syllabus and registration fee have not changed.
Q16. I am a Class XII student aspiring to be a Certified Public Accountant. When will I be able to enroll in the Foundation course?
Answer- You must register with the Institute's Board of Studies on or before the 1st of January or 1st of July for the examinations scheduled for May/June or November/December, respectively. To put it another way, a four-month study period is required before taking the Foundation Exam.
Conclusion
This research method is based on the most up-to-date learning methodology research. You may have also noticed that you don't use these concepts by yourself. They're all linked together, and you can use them all at once. Also, don't get too worked up if you can't put all of the suggestions into practice. Finally, the most effective method of studying is to do what suits you best.